About
The heart of every Reserve Officers Training Corps (ROTC) battalion is its cadets, and five separate academic institutions comprise the Georgetown University Army ROTC program, fondly called the Hoya Battalion: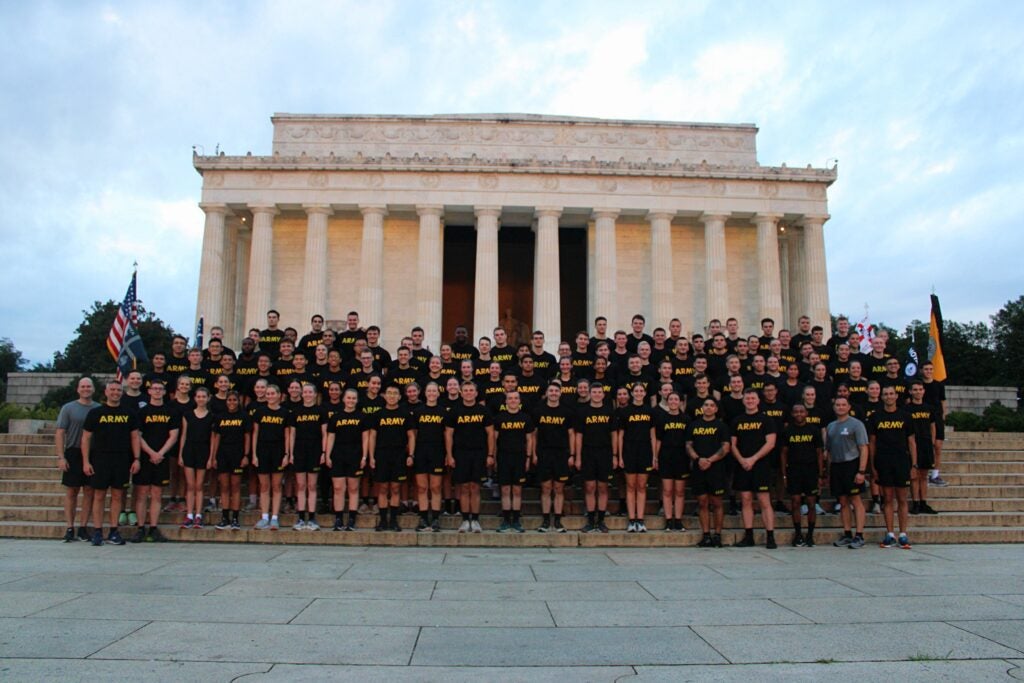 Georgetown University
American University
The Catholic University of America
The George Washington University
The Institute for World Politics
Cadets, young men and women who volunteer to serve, become officers through a balanced program of stimulating education, rigorous military training, and responsible socialization. These officers become the leaders of the tactical Army and the future leaders of the joint force.
Together, Hoya cadets come from every walk of life, were admitted into the top three percent of academic institutions in the country, and exceed the U.S. Army Cadet Command and 4th ROTC Brigade standards in every measurable category. In 2012, out of 272 programs in the nation, U.S. Army Cadet Command ranked the Hoya Battalion as its top Senior ROTC Battalion in the Nation.
The cadre of this battalion develops each cadet, one candidate at a time, according to individual abilities. The cadre sets and enforces standards. The cadre instructs, teaches, trains, observes, evaluates, and provides feedback. The cadre cares for each cadet to ensure he/she is physically, mentally, emotionally, spiritually, and financially sound. The cadre ensures cadets learn the profession of arms, obtain a commission, and possess the skills necessary to train soldiers and lead them into combat to achieve victory.
A rich history exists between the Hoya Battalion and the Army that is unique to this program. The first Georgetown student, who eventually served in Congress, was also the first Georgetown College cadet in 1791. For more than 220 years, this battalion commissioned more than 4,100 officers, including a former Chief of Staff Army. Over that time, commissioned officers from the Hoya Battalion commanded soldiers at every level in every major campaign and conflict fought by the United States and the Confederate States of America.
Being in ROTC means that you are a part of something bigger than just yourself. If you asked me three years ago what I would be doing with my summer, I would have never imagined the answer would be "learning how to jump out of planes at 1,250 feet". Take this opportunity. You won't regret it.

cadet
Hoya cadets, upon commissioning, join a long line of distinguished graduates who have served this nation well. The newest generation of Hoya officers, training today to earn a commission and lead soldiers, will uphold our battle-tested honor and serve with distinction, pride, and poise.
Thank you for visiting our website. Please feel free to contact us if you have any questions or if you think you possess what it takes to become a Hoya cadet.